Photo 1-Mt. Monadnock and its  reflection. Photo 2- Self, Father, Mother, Wife.            Second photo by Jack Mitchell.
AN INTEREST IN LIFE
 As of 2017, I've been retired for 23 years. I'm a retired professor of psychobiology, comparative psychology, and primatology, and I'm listed  as a Professor Emeritus on the University of California at Davis' Psychology Department website. http://psychology.ucdavis.edu .  U.C. Davis is famous world-wide for its exceptional biological research programs. Like many professors at U.C.D., I view psychology from a biological perspective and have an interest in psychology as a life science.  As is evidenced on the Publications and Gallery pages of this website, I've managed many exciting research projects.
My mailing address is Box 2101, Davis ,CA 95617, but I have never considered California my home. My home is in the Monadnock region of southwestern NH.  Monadnock Mountain is the most climbed mountain in North America. It stands alone above the dense woods, small towns, and one small city of Cheshire County, Keene, which has a population of 23,409.  Far below the splendid isolation at the mountain's summit, down in the valleys looking up and around us beyond the outskirts of each village, we see and feel the thick woods. There is a smaller sky because the trees surround the blue of it and the puffy white clouds provide beauty and variety for the firmament that, without them, would only be like the big bright boring blue seen on a June day in Davis, CA where I currently live.  The sky in the Monadnock area is forever changing. The hills and valleys in this home of mine are green, not brown. The woods are thick and varied and the trees are forever growing green thickets separating one town from another. There are different seasons here. There are fewer people; and, the people in this southwest corner of New Hampshire, the side nearest Vermont, are a little more progressive than those elsewhere in the state, despite the region's lack of racial and other diversity.. But what calls me home is not the politics. My heart seems to leap with joy each time I return home, and this happiness is because of place not just people. I am in good company in feeling this way. Both Thoreau and Emerson loved Monadnock and the beauty below and around it. Only my five offspring, my grandson, and my wife's large family, keep a need for me to maintain a forever temporary mailing address in the far west. I see myself as having been a reluctant resident of California for 50 years. This link takes you to a video of the summit of Monadnock. https://vimeo.com/200162563
Given my love for Cheshire County, it should not be surprising that my favorite author is Ernie Hebert of Dartmouth University, a NH man born on my birthday in the same town, the same hospital, but one year after me. He writes about poor people, working people, people of the woods, people of the small town. He sees and reports life through their eyes. He writes truly great American novels in which poor people are respected (unlike .F Scott Fitzgerald). The humor, the tragedy, the poverty, the wisdom, the folly. I told Ernie that I see myself as a character in his novels. He has written many books about the woods and towns of Cheshire county (see bottom of page for a few). I know almost every road and wooded area he describes and recognize most of the characters in his stories. All of the people and places are still there. And these characters and places reappear in his novels, book after book. I can never wait for the next novel. See the bottom of this page for a list of his books. Most of his novels are part of what he calls "The Darby Chronicles".
I was a researcher and teacher for 31 years. I am not active academically or professionally any longer.  Prior to and after retirement I became a dedicated youth baseball manager and soccer coach, and for a short time, coached boys' under 12 basketball and organized and coached one season of old timers' basketball in the City of Davis basketball league.. My managing and coaching lasted for 13 years and ended around 2005. I've also played a lot of softball in my adult life. In one summer alone I played in 100 games. As a senior citizen, I continued to play softball (mostly second and third base) and also basketball (point guard) in the "old-timers" leagues in Woodland, CA. Looking back, in baseball as a kid and in softball as an adult I had power to all fields that was equal to and more dependable than larger players. When there were no fences in the outfield, I actually enjoyed the base running as much if not more than the homer. I've always played hard and with abandon, relying mostly on speed. I loved stretching a single to a double or a triple. I loved diving head first into second, diving head first for a fly ball in the outfield, taking a hard bad-hop liner off the chest and getting the out when playing second, short, or third base. Defense was more fun for me than hitting. Hitting required waiting my turn. On defense every pitch had the potential of leading to a liner, ground ball, or fly headed my way. Its about being ready. I was more ready than others and wanted the ball to come my way.
Despite this sometimes over-enthusiastic engagement in sports, and especially prior to retiring, I was a weekend warrior and did not live a healthy lifestyle. I had medical issues which I often did not notice as such. I've had a heart that skipped from early childhood. Only in the Fall of 2017 was it diagnosed as mild atrial defibrillation. I've experienced many T.I.A.'s (small strokes)  over the years, the first beginning at age 40 (an event occurring after hospitalization for knee surgery), the last at age 76. Most of them, including the last, involved my being unable to speak for a minute or so, sometimes longer, and by my fingers' going numb on my right side and usually part of my right visual field, and then in the 2016 stroke , left visual field disappearing. I originally suspected these as being the "small" strokes they were, but ignored them because the recovery seemed complete and soon. Later I clearly recognized them for what they were but did not respond appropriately.   At age 54 a TIA affected my memory and speech for a while. I retired and cut off all work-related friends and activities. After decades of such infrequent incidents, the last one requiring a hospitalization at age 70,  I got the medication and remediation needed and was reminded by UCDavis medical personnel, not at all delicately, that there was no such thing as a "small" stroke. I've always recovered, and have immediately consulted with and warned my most immediate relatives of possible genetic implications. In 1994, I completely shut down work, students, and friends and increased interaction with my very large and scattered family, including aging parents, four brothers, five children, my grandson, and many other kinfolk I love. My wife Pat's encouragement and insistence on my getting treatment were critical in my recovery. I would have continued to ignore each event as another passing annoyance were it not for her. Pat's large family, including especially her two sisters, with whom she is very close, were also supportive. In brief, I finally took an interest in my own life and in those closest to me.
EXTENDED FAMILY AND LONGEVITY
As a consequence of the above changes following retirement, Pat and I have for the past 23 years traveled around the country to see our family members, usually in large gatherings. Up until last year (2016), at least three times per year, Winter, Summer, and Fall, we flew to New Hampshire, and, within California, we have seen and/or still see close kin in Sacramento, San Diego, Alameda, Alpine, Bodega Bay, Santa Cruz, and San Francisco. We've also gone to Salt Lake City and once to Florida. I plan on visiting North Dakota to see my older brother. We have regular gatherings in California too, especially in November for my Western USA kin and on other annual occasions for my in-laws. I think of and contact my family members regularly.
My father died July 19, 2015 at age 97, my mother July 1, 2015 at 96. I watched them interact with one of their great, great, grandchildren. I have four aunts, one of whom just passed this year at age 99, three others  two of which died earlier at age 94, and Aunt Ruth still active at 95. Two uncles died at age 94. I had two great grandparents who made it to 98 before passing, and numerous other great aunts and great uncles, as well as first level uncles and aunts, who passed away only after having made it well into their 90's. Nonagenarians are almost the rule on both my mother's and my father's sides. I am proud to say to others that I am myself a great, great uncle. Frequent cross-generational family activities keep me content and busy, as do reading, music, humor, yard work, and, of course, sports (mostly baseball, basketball, and soccer).
As a further means of addressing my health issues, I follow a daily rigorous early morning exercise program of, especially up to 40 minutes of hill or incline climbing, and then walking and running for a mile or two, and using up to 8 different machine weight machines.  I back this up with a daily diet which begins with a breakfast bowl of Pat's wonderful and very healthful chili poured over eggs which have been quick fried, over easy, in olive oil.  I eat a big salad with olive oil and basalmic vinegar in the afternoon. I lost 30 pounds  since retirement (from 185 to 155) and I'm now a lot healthier than I was before retiring.
  I have some good genes.  Given the stupidity with which I lived my early and middle-life adult years, I have no right to expect to be a nonagenarian.  I'm going to try to ride my fortunate family genetics into what I'm calling my fifth phase of life: It is a phase in which I have an appreciation of present and future activity in life, beyond reflection about the past.
THE PLACE THAT IS HOME

Photo at right by Peter Thompson, Dartmouth College, 1968
It is only from the top of Mt. Monadnock that we see the expanse above the woods. Like the mountain standing alone above them, the densely wooded hills around us in New Hampshire are ancient.  The oldest trees are short lived next to the hills. In comparison to the ancient hills and even the varied trees, a bird in one of those trees goes through its birth, life, and death in an instant. But a bird sings all the while it is here. I hope to do the same in a similar short moment in the eternity of time. After my short song, I'll become quiet like a cricket between chirps.
The  time between each cricket's chirp session on a warm New Hampshire August evening can be much longer than each chirp or even an entire chirp session, yet I would not attach my attention to the silence if I did not, in my quiet wait, anticipate another chirp. The quiet wait that precedes a chirp session is the silence I'll become when my stay ends.  I listen to the quiet of the cricket between chirps. That is where I think of my loved ones already gone. While I am here, I sing my unique song which I can either appreciate or not. Like the bird, I can't help singing it. As off-key as it now often is, my own voice is now something I choose to like.
Work, students, and friends were very much in focus for me until 1994. When I say focus I mean attention often to the exclusion of other pertinent personal responsibilities and loves. My family and my health were ignored. Starting in 1994 I completely reversed this emphasis so that family and health now have all my attention, and I truly mean all.  My family members are my friends and students, my relatives, my health, and some minor writing activities are my work. Beyond wife, children, and grandchild,  my current world includes that small lower left corner of New Hampshire and all of my kinfolk who hold onto our common core there, a world supplemented by leisure, exercise, and good diet.
Because of  this focus on family and health in the present, I frequently flash back to my childhood and a warm, somewhat humid, summer night in New Hampshire. Up the very narrow and very steep back stairs, in  the actually very small "big bedroom" of the childhood home that is still mine, I fall asleep to the sound of those crickets and wake up in the morning to the chirping of a bird and the happy sounds of my family chatting in the kitchen below me. I smell the toast, sit up and set my warm bare feet on the cold linoleum floor, yank on a pair of three day old jeans with holes in the knees, and patter barefoot down the steep stairs to join them, feeling it will always be this way.
(Speaking of crickets, you can get the temperature in Fahrenheit by counting the chirps of a cricket for 14 seconds and adding 40. You can get the temperature in Celsius by counting the chirps for 25 seconds, dividing by 3, then adding 4. This is from the Old Farmer's Almanac, published in Dublin, NH, 03444, a village one town east of my "Home Squared".)
"There is pleasure in calm remembrance of a past sorrow."  -Cicero
MY FAVORITE NEW HAMPSHIRE NOVELIST-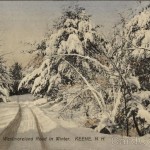 BOOKS BY ERNEST HEBERT
Novels about the folks of Cheshire County written by Ernest Hebert include The Dogs of March (Viking,1979), A Little More Than Kin (Viking,1982), Whisper My Name (Viking,1984), The Passion of Estelle Jordan (Viking,1987), Live Free or Die (Viking,1990), The Kinship (UPNE,1993), Spoonwood (UPNE, 2005), Never Back Down (David R. Godine, Publisher, 2012), and  Howard Elman's Farewell (University Press of New England, 2014). Although the author says it doesn't matter which of his books are read first, I am glad I read these nine books sequentially, beginning with the oldest year of publication. The overlap of characters is one of the best reasons of why I like Hebert's writing. The books portray wonderful characters.
Ernie also wrote an excellent book of historical fiction about the first settler of the town of Keene, NH in the mid-18th century (The Old American, University Press of  New England, 2000).  He also published two science fiction books: I Love u (eBook form only, 2011) and Mad Boys (University Press of New England, 1993). In addition, Ernest Hebert wrote an enjoyable collection of short essays in a book in which he teamed up with Photographer John Gilbert Fox. The book is entitled New Hampshire Patterns (University Press of New England, 2007). Most recently, Ernie has written The Contrarian Voice and Other Poems (2017).

Here are two links to his work. The first includes reviews of most of his books: dartmouth.edu/~ernesthebert.  The second is a personal blog with commentary and essays by Ernie Hebert and comments from readers and friends: erniehebert.com .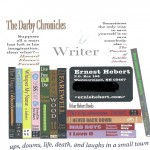 Click to make this DARBY CHRONICLES ad larger.
This concludes the About Me section of the site.
My thanks for comments and notes of remembrances received from: Tom Lane, Roberta Chinn, Joe Erwin, John Capitanio, Ernie Hebert, Mollie Bloomsmith, Mary Agar, and Nancy Caine.
Mailing address; Prof. G. Mitchell, PO Box 2101, Davis, CA 95617.